Tours will cease after March 31, 2023



COCO PALMS TOURS


I have started touring again but I will only be booking private tours....that would be only people who you approve to be on the tour with you including people in your family and/or people you are traveling with. When you book a tour under your name only you can approve adding people to your tour. I will book tours for any day of the week at 2pm...tours are two hours long. I am posting my phone number in this post. If I don't answer it is because I am driving, touring or sound asleep..lol. I will call you back...just leave a message. Minimum number of people is two, or payment for two....there is no maximum. Cost is $40 per person. I hope to see you on a tour. My number is 808-346-2048. Yes, I am so organized now I actually carry a reservation book with me. Welcome to the new world.
What Will You See?
The Coco Palms sits on 50 acres of lush land, most of which can't be seen from the front. There is so much more beyond the highway that we will tour including.....the famous wedding boat, Elvis's lava rock shower and what is left of his bungalow, filming locations for Blue Hawaii and many other features, things the film companies left behind, the historic wedding chapel, the honeymoon suite, the grand Queens Audience Hall, the Coconut Palace, the Lagoon Dining Room, the Lagoon Terrace Lounge with its' historic murals, the drum hut, the original swimming pool, now a reflection pool, Hawaii's largest and oldest coconut grove with trees planted by famous people and secrets left behind in the lobby, the unique way management cooked the pigs.... and much more. Your tour guide, Bob Kaua'i Jasper has been taking people on Coco Palms tours for 25 years and is a Coco Palms historian, having produced and hosted a two hour documentary on this fascinating hotel. Hear about the zoo that once sat on the grounds during its' heyday, the people who made the Coco Palms so famous.....and so much more!
Due to the fact all tours are private, space is
extremely limited.
I hope to see you on a tour of the
historical Coco Palms!


Due to limited cell phone service in the Coco Palms area we are unable to accept credit cards.





Tours of Coco Palms will cease after March 31, 2023






The Coco Palms, filming site of Blue Hawaii, Fantasy Island, South Park, Pagan Love Song, Pirates of The Caribbean, Ghost Asylum and many more was also a favorite place to stay for many of Hollywood's elite, including Elvis Presley. Come with us on a 2 hour tour of this now closed Hawaii Landmark. Closed by Hurricane Iniki in 1992, your tour guide, Bob Kauai Jasper has been doing fascinating tours of the large grounds of Coco Palms for twenty-five years. If you can't come to Kauai to see the hotel, a two hour historical tour DVD is available on this site.


The grounds of Coco Palms is almost 50 acres, including Hawaii's largest and oldest palm tree grove.
Wedding Chapel
The wedding chapel, originally built as a movie prop in 1953, has been used by thousands of people over the decades for weddings and vow renewals. Surviving three hurricanes including Hurricane Iniki, the chapel still stands.
The Tour
Private Tours of Coco Palms are done seven days a week at 2pm . Reservations are required which may be made by calling 808-346-2048.
Coco Palms is located on Kauai's east side near the Wailua River. The address is 4-241 Kuhio Highway, 96746. Mail is not accepted at this address. Arrive at the entrance of our parking lot at the intersection of Kuhio Highway and Kuamo'o Rd.
The only way to make a reservation is to call the number on this site. Should you find any other site trying to make a reservation for you and collect money, they are not legit....don't make it with them.
Private tours are only those tours that you make and can only include people that you have approved. Should you want to add people to your tour, you are the only one with the authority to do that. Nobody can join your tour without your permission.
Elvis in his bungalow... #56. The bungalow was removed during partial demolition of the hotel. The foundation of the bungalow is still here including his outdoor lava rock shower.

Your tour guide Bob Kauai Jasper gives you a small taste of the many things he covers in the tour.
Elvis fans from all over the world visit the Coco Palms including some of the top Elvis tribute artists....Ronnie McDowell and others above with the late legendary Coco Palms entertainer Larry Rivera.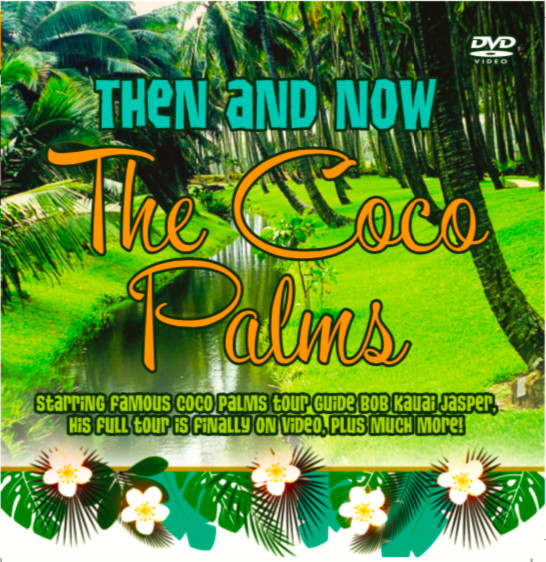 If you are unable to visit us at the Coco Palms, the entire two hour tour has been filmed and is available on this recently released DVD. It includes more than just the tour.....including music by legendary Coco Palms entertainer Larry Rivera and much more. It is available on eBay. Just click on the image.
Scenes from various films made on the Coco Palms grounds.

If you have any questions, fill out the form below...we will get back to you as soon as possible. We hope to see you on our tour.